TDP-43 is an important nuclear RNA-binding protein, whose mutations can cause amyotrophic lateral sclerosis (ALS). Recently, intensive studies indicate that liquid-liquid phase separation (LLPS) mediates the biogenesis of membraneless, liquid droplet (LD)-like ribonucleoprotein granules such as stress granules (SGs), whose aberrant phase transition to protein aggregates is thought to be a major pathogenic mechanism in ALS.
Although TDP-43 translocates to cytoplasmic SGs in stress, a significant portion of TDP-43 remains nuclear. However, the significance of the nuclear TDP-43 and its potential pathological contribution have been underestimated.
On July 9th, 2020, a research team led by Dr. FANG Yanshan and Dr. LIU Cong from the Shanghai Institute of Organic Chemistry of the Chinese Academy of Sciences reported that different RNAs precisely regulate the phase separation of TDP-43, so that the latter forms membraneless, LD-like, highly dynamic and reversible nuclear granules that can antagonize stress and cytotoxicity. As such, the research team named it "TDP-43 nuclear body (NB)".
According to the study, TDP-43 forms NBs via liquid-liquid phase separation (LLPS), a process strictly regulated by RNAs. The two RNA recognition domains RRM1 and RRM2 in the TDP-43 protein play different or even antagonistic "centripetal-centrifugal" roles, so that TDP-43 NBs lacking RRM1 or RRM2 display interesting "ring" or "core" morphology, respectively.
The researchers uncovered that the long noncoding RNA (lncRNA) NEAT1 is significantly increased in stressed neurons and co-localized with TDP-43 NBs.An ALS-causing mutation D169G impairs the binding of TDP-43 to NEAT1, which reduces the function of NEAT1 in promoting the LLPS and the NB assembly of TDP-43 in stressed cells. The NB-defective D169G mutant exhibits more toxicity and neurodegeneration in cell and Drosophila models of ALS than wild-type TDP-43.
Together, the findings of this study strongly suggest that the assembly of TDP-43 NBs forms the "first line of defense" in response to cellular stress, and defects in the formation and/or function of TDP-43 NBs may contribute to the pathogenesis of ALS.
"Our study does not simply follow what is considered 'hot and trendy' in the field. Instead, it provides a completely different angle and new ideas to the understanding of ALS pathogenesis as well as the development of novel therapeutic strategies," said Dr. FANG Yanshan, the lead co-corresponding author of the study.
This research was supported by funding from the National Key R&D Program, the National Natural Science Foundation of China, the Chinese Academy of Sciences, and the Shanghai Municipal Science and Technology Commission.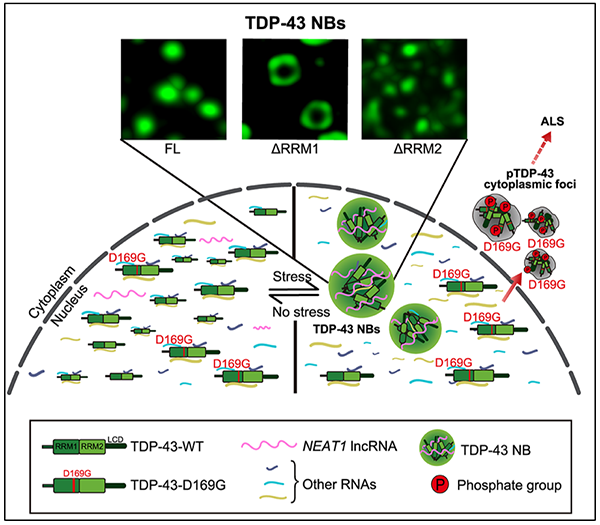 Figure 1. A schematic model of the role and mechanism of TDP-43 NBs in cellular stress and the pathogenesis of ALS. (Image by SIOC)
(Molecular Cell: https://doi.org/10.1016/j.molcel.2020.06.019)